Introductory Scuba Diving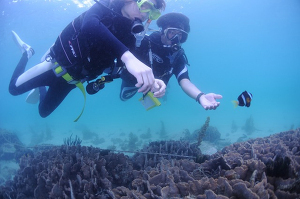 This is a beginners' scuba diving program designed for those who are not yet certified. Explore the deep blue sea that you have always wanted to experience. This may be a once in a lifetime experience. Soar underwater in complete freedom. Float as if in a dream among the creatures of the sea and along the surface of the deep.
This is a scuba diving program letting even people without certification enjoy the coral paradise of Tatsukushi, designated as Japan's first marine park. Our instructor, with extensive experience, will give you a diving lesson in a safe spot. Explore underwater sights and see colorful underwater wildlife.


 ・Briefing session 
   ↓ 
 ・Get changed and be ready 
   ↓ 
 ・Departure, practice and go on a tour (1 hour) 
   ↓
 ・Return to the port, get changed 
   ↓
 ・The tour ends.
※ The boat ride lasts two to three minutes to the diving spot.
This plan cannot be booked online right now.
Please contact us by phone directly to sponsorship
Sponsorship information
Plan contents
Acceptance period

May 1 to October 31
* Online reservations can be made from 3 months to 3 days before the date of the plan.

Fees

Age 10 and over:16,000yen


Participation conditions

Children 10 years old and over can participate in scuba.
Those who are in good shape. If you have a chronic disease or health condition, you must bring a note from your doctor clearing you to scuba dive.


Time required

Approximately 3 hours

Number of participants

1 to 4 persons

Meeting place

Activity time

9:00 a.m. to 12:00 noon
1:00 p.m. to 4:00 p.m.

Information on the day
Transportation service

A pick-up service is available at Nakamura Station at 7:00 a.m.
We can take you to Nakamura Station after 4:30 p.m.
※ The pick-up/drop-off service may not be available depending on the reservation status.


Things you need to prepare for the activity

Swimsuit, towels

Precautions

Please note the tour is subject to cancelation due to stormy weather.

Fees include

Instructor fee, scuba diving gear, passenger fare, facility fee, fishery association cooperation money

Fees exclude

Swimsuit, towels

Payment method

Please pay via cash on site.

Cancelation policies

If you cancel on the day of the tour or fail to show up, we will charge 100 percent of your tour fee. A 50 percent cancelation fees are charged if you notify us within six days prior.
This plan cannot be booked online right now.
Please contact us by phone directly to sponsorship
Sponsorship information
Sponsorship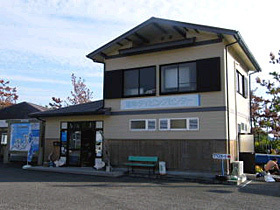 Tatsukushi Diving Center
3897 Tatsukushi, Tosashimizu-shi, Kochi 787-0452 
TEL:0880-85-0790  FAX:0880-85-0790
■ Business hours:
10:00 a.m. to 6:00 p.m.
■ Holidays:
Open 7 days a week