A Two-Day, One-Night Journey To The "Unexplored Seas" At The Southernmost Tip Of Shikoku Island
Tosashimizu City in Kochi Prefecture is situated on the southernmost tip of Shikoku island. Getting here from Tokyo takes longer than anywhere else in Japan, earning it the name the "Unexplored Sea". However, this place is steeped in allure that makes it worth all the trouble to visit.
Day 1: The Luxury of "Taking Time"
A local Journey where you can spend enough time.
A slow journey where you travel around at your leisure.
---
A Mysterious Spot That Takes Longer To Get To From Tokyo Than Any Other Place In Japan Cape Ashizuri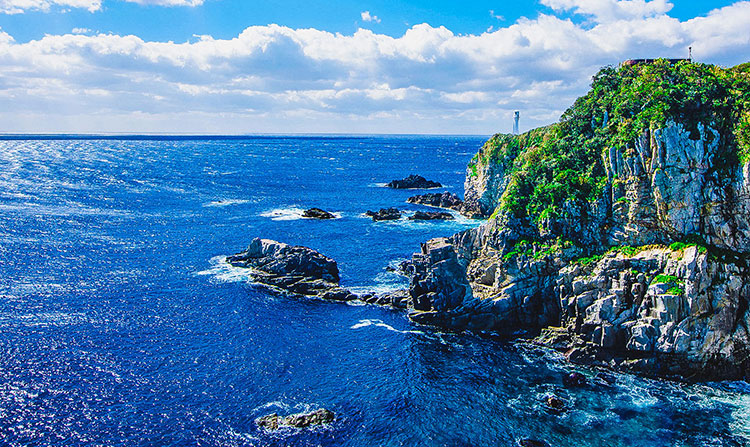 The southernmost tip of Shikoku island.
Cliffs on the sea, made all the more powerful by the lighthouse
A fisher from Tosashimizu named Manjiro, a.k.a. John Mung, was swept by a storm to the United States, where he learned about modern nautical technology and advanced knowledge, which he used after his return to Japan in the late Edo period to help Westernize Japan during the early Meiji era. A statue of John Mung stands at the entrance of the cloister leading to an observatory where you can see the Cape Ashizuri Lighthouse, as if to welcome you. With John Mung in the corner of your eye, enter the cloister, where you may find yourself walking through a tunnel of camellia depending on the season.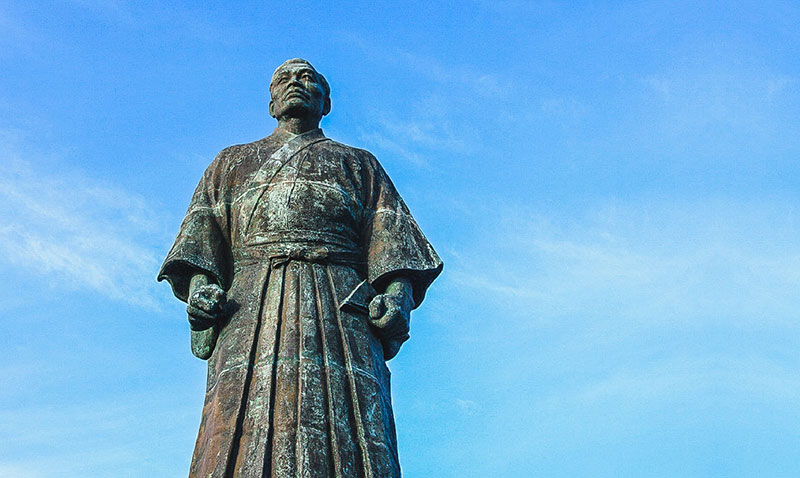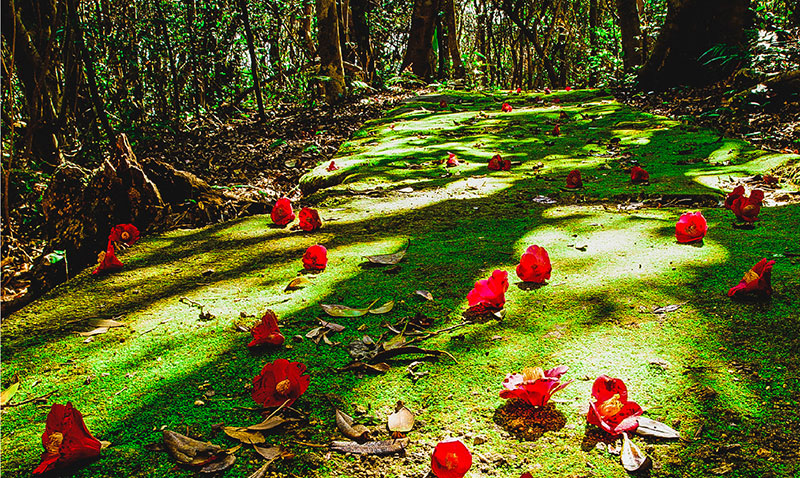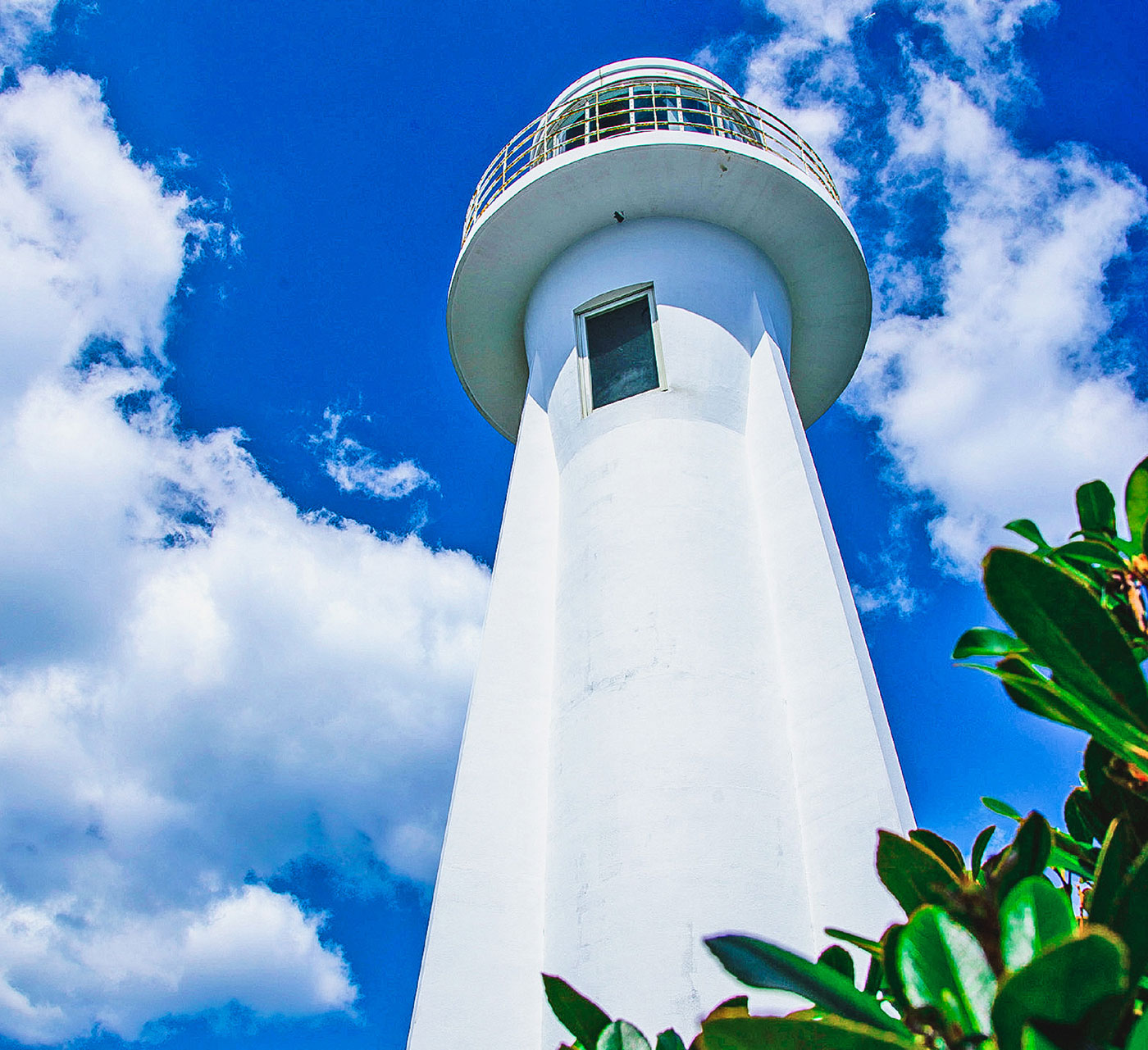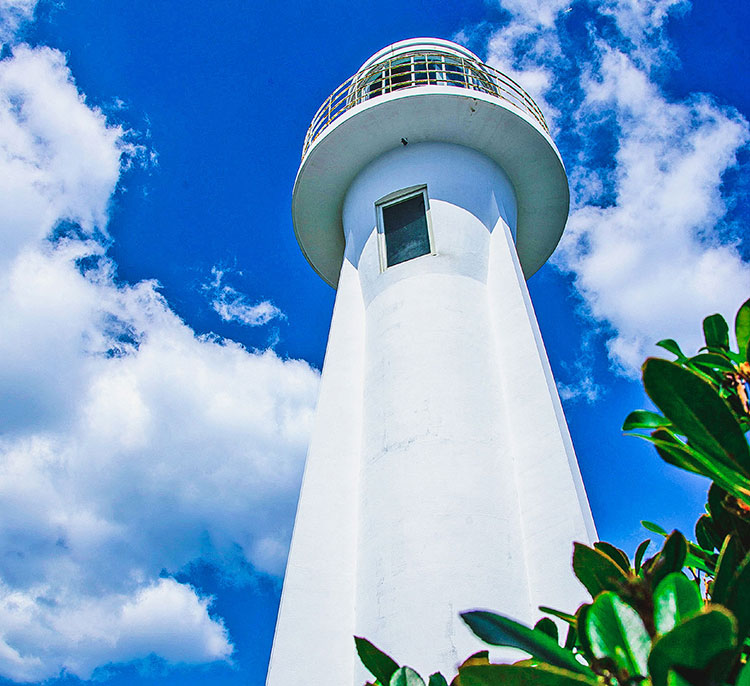 The stunning chalk-white lighthouse blazes against blue skies and the Pacific Ocean.
One of the largest lighthouses in Japan, Cape Ashizuri Lighthouse stands chalk-white and beautiful against a panorama of the Pacific Ocean. Viewing this from a distance at the observatory lets you feel its grand scale, while a closer look makes this lighthouse appear imposing. Either way, this sight makes it worth all the time it took to get here.
Cape Ashizuri & Cape Ashizuri Lighthouse
Cape Ashizuri, Tosashimizu-shi, Kochi
Contact: Tosashimizu-City Tourism Association
Tel:0880-82-3155
MAP: Display Google Map
Built In A Lush Subtropical Forest
Kongo Fukuji Temple, the 38th Temple of the Shikoku Pilgrimage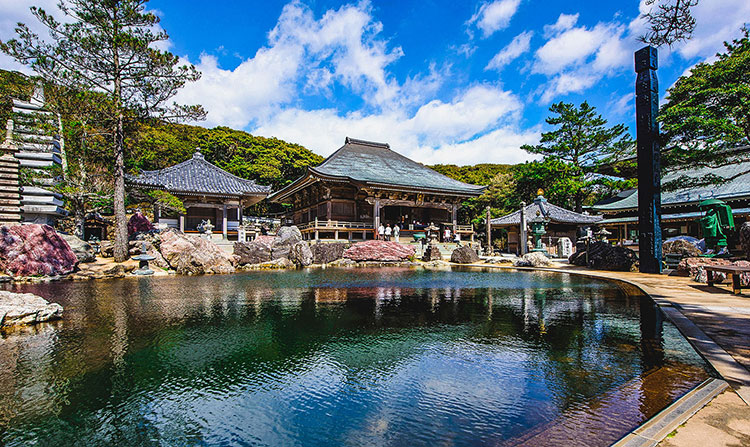 One of the preeminent "training grounds" in Tosa, overlooking Cape Ashizuri on the southernmost tip of Japan
Pass through a tunnel of luxuriant subtropical forest and you'll find yourself at Kongo Fukuji Temple. The temple grounds here boast an area of 120,000 square meters. Kongo Fukuji Temple is the farthest from the other sacred sites of the Shikoku Pilgrimage at more than 80 kilometers away, making it a true "training ground" for asceticism. The sheer cliffs of the cape against dark green mountains and the majestic Pacific Ocean right before your eyes calls to mind Paradise, filling visitors with awe.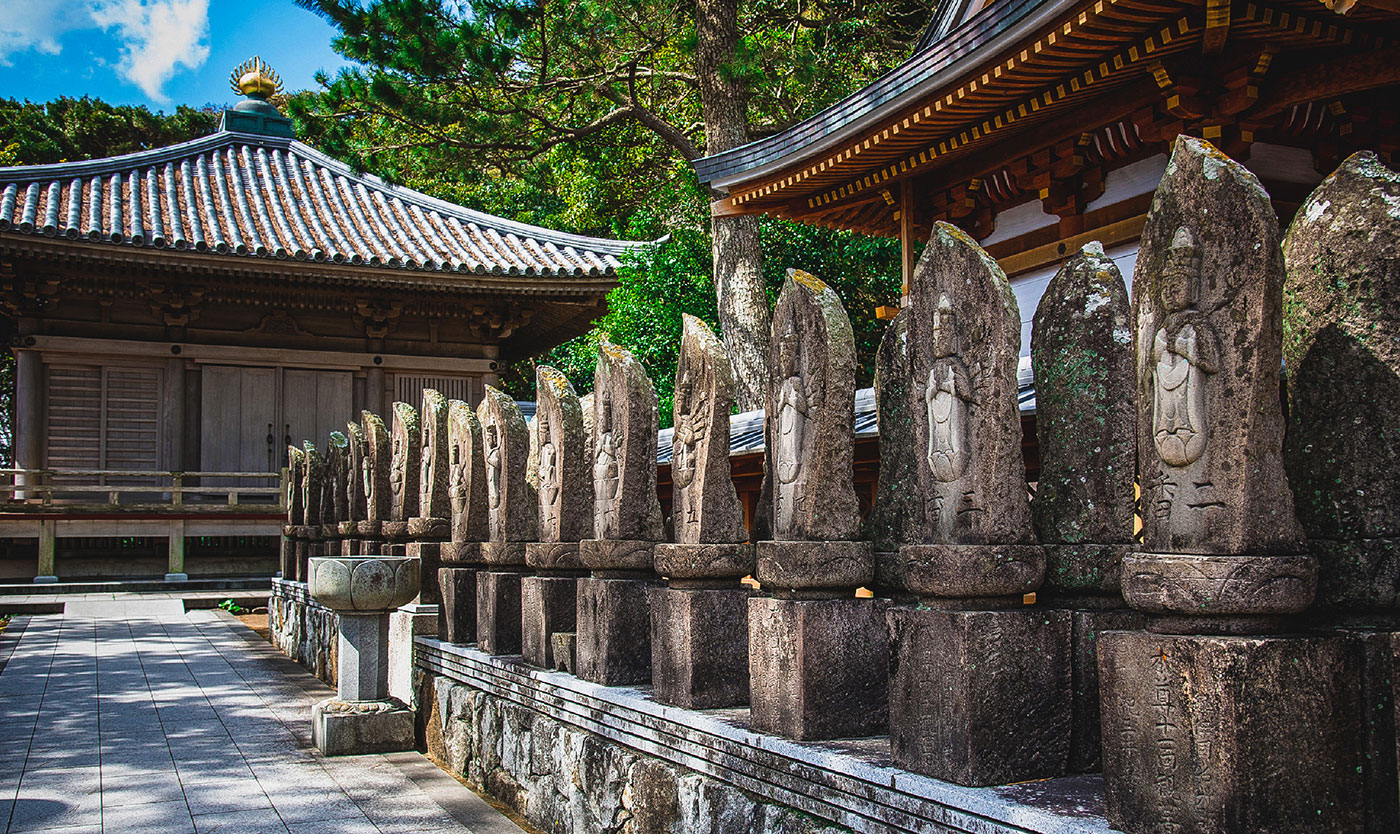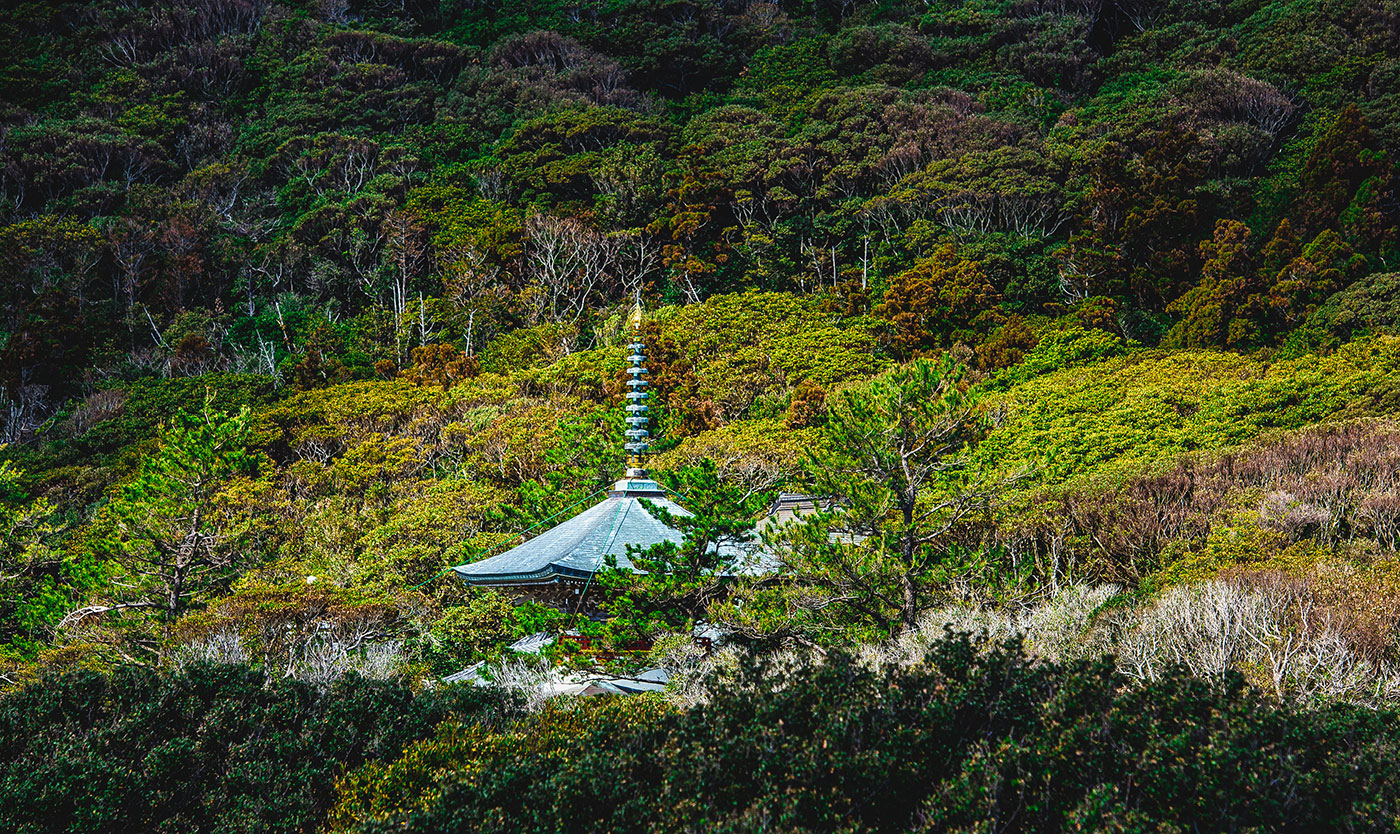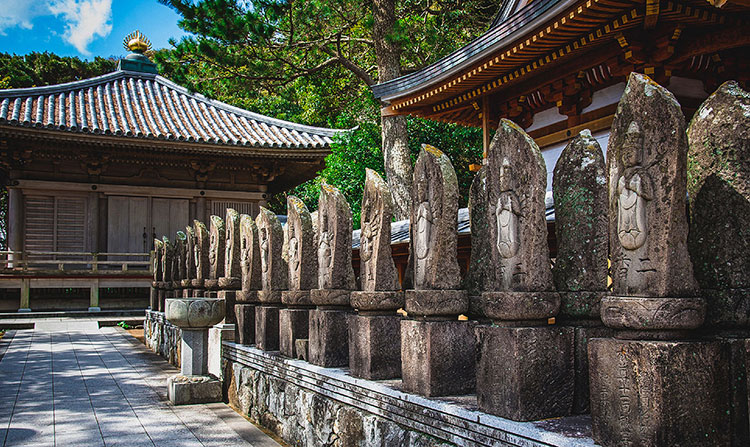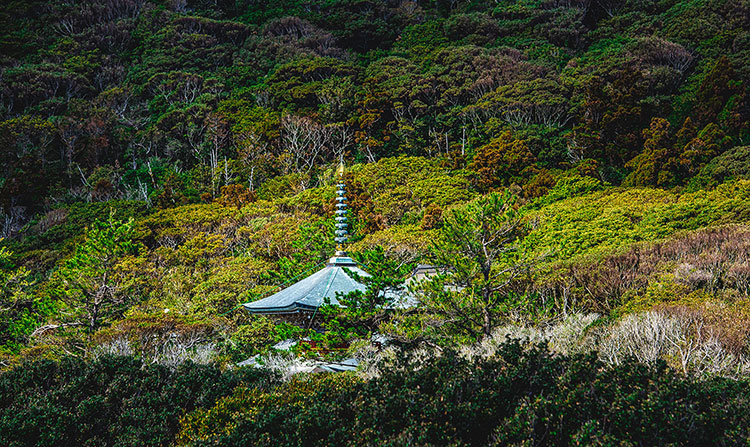 Kongo Fukuji Temple, the 38th Temple of the Shikoku Pilgrimage
214-1 Cape Ashizuri, Tosashimizu-shi, Kochi
Parking Lot: 65
Tel:0880-88-0038
MAP: Display Google Map
A Beautiful Natural Formation You Can Gaze Upon While Soaking In A Footbath
Hakusan Domon Sea Cave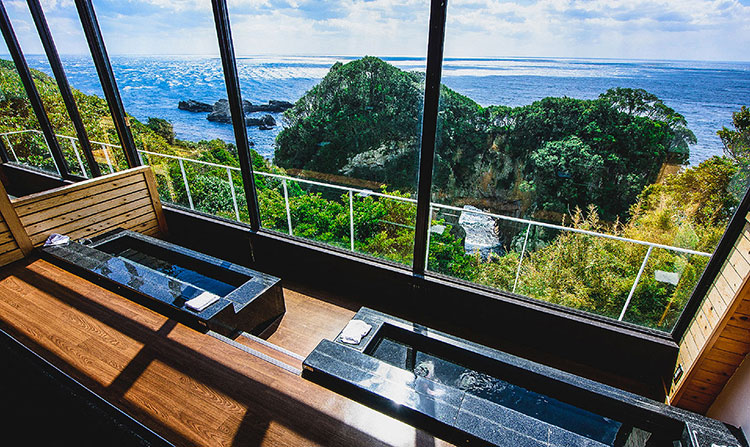 Located near Cape Ashizuri, Manjiro Footbath is available for free of charge. This curious rock formation with a hole in the middle peering down into the Pacific Ocean is called Hakusan Domon Sea Cave, a sight definitely worth the visit This enormous cave, said to be 16 meters high and 17 meters wide, is the largest granite cave in Japan.
Hakusan Domon Sea Cave
Cape Ashizuri, Tosashimizu-shi, Kochi
Contact: Tosashimizu-City Tourism Association
Tel.0880-82-3155
MAP: Display Google Map
Manjiro Footbath
Cape Ashizuri, Tosashimizu-shi, Kochi
Business Hours: 8:00 am to 7:00 pm *Closed: Wednesdays
Fee: Free of charge
Contact: Tosashimizu-City Tourism Association
Tel:0880-82-3155
MAP: Display Google Map
An Exquisite Lunch Of Shimizu Mackerel, A Local Brand of Fish Tosashimizu Fish Center, Ashizuri Kuroshio Market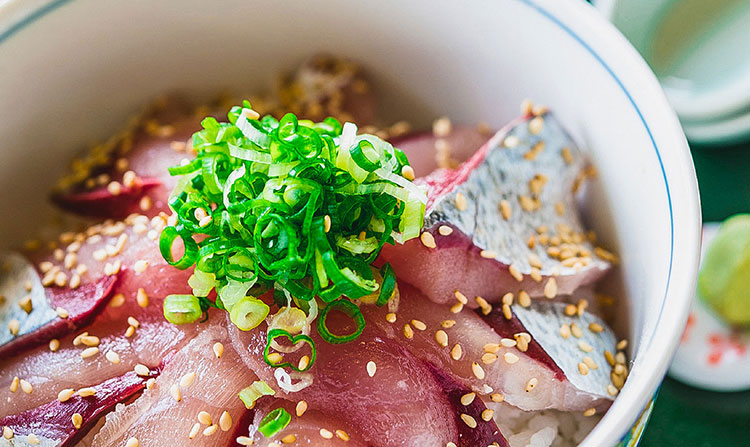 After taking in the fresh air and the stunning natural landscapes of the Pacific, it's time for a meal. We visited Tosashimizu Fish Center, Ashizuri Kuroshio Market, where you can gaze out over the ocean at the seaside dining hall as you eat your lunch. A popular menu item here is the "Shimizu Mackerel Rice Bowl. Mackerel tends to go bad quickly, but here you can enjoy it raw and fresh. Although it is apparently unavailable some days due to the weather and fishing conditions, the flavor is something that can only be experienced here, giving you the sense that you are truly traveling.
Tosashimizu Fish Center, Ashizuri Kuroshio Market
932-5 Shimizu, Tosashimizu-shi, Kochi
Business Hours: Sales Area: 8:00 am to 5:00 pm
Restaurant: 11:00 am to 3:00 pm (last order at 2:30 pm)
*Subject to change depending on the season.
Closed: Open all year (with some irregular closings)
Parking Lot: About 100 vehicles
Tel:0880-83-0151
MAP: Display Google Map
Tojindaba Site, A Mysterious Spot Where You Can Get Lost In The Romance Of Antiquity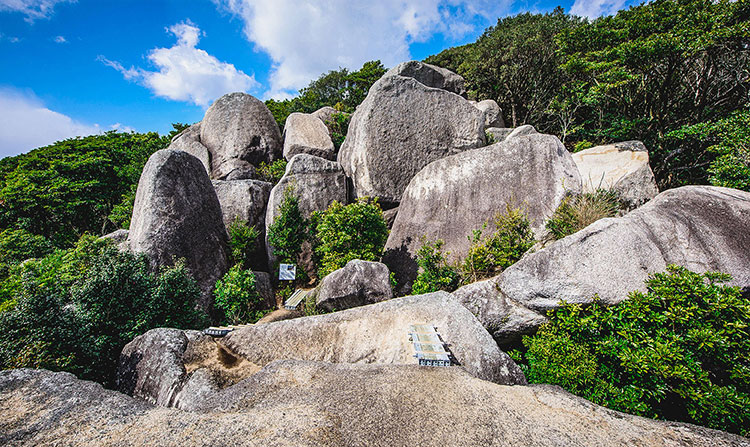 Enter the Ashizuri Skyline from downtown Toshimizu, then at the midway point take the road headed west and go about one kilometer to find Tojindaba site. Here, mysteriously shaped megaliths dot a vast, sprawling lawn. Remains of megaliths can be seen in Nagano, Hokkaido, and Nara in Japan as well as other locations internationally, but there are many megaliths to see here in Ashizuri. While it is unclear why and how they got here, these megaliths create an indescribably sacred atmosphere, letting you feel the romance of antiquity here at Tonjindaba site.
Hotel Bellreef Otsuki,
A Hotel Offering Picturesque Ocean Views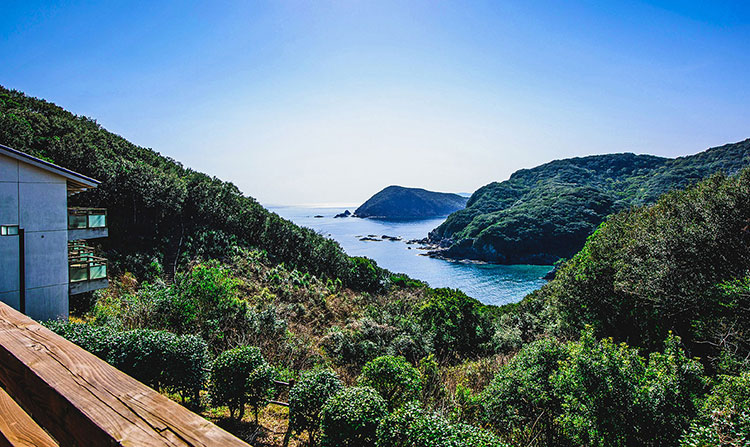 All rooms come with balconies offering a view of the ocean
Hotel Bellreef Otsuki is very close to the sea. Beautiful landscapes of the sky and sea from the balcony create an atmosphere of luxury. The roar of the sea helps make your journey all the more relaxing. You'll be surprised at just how grateful you feel toward this ocean view.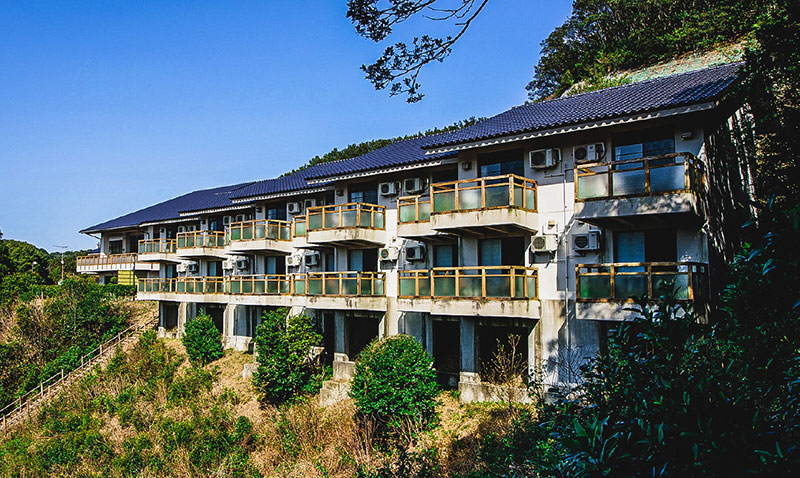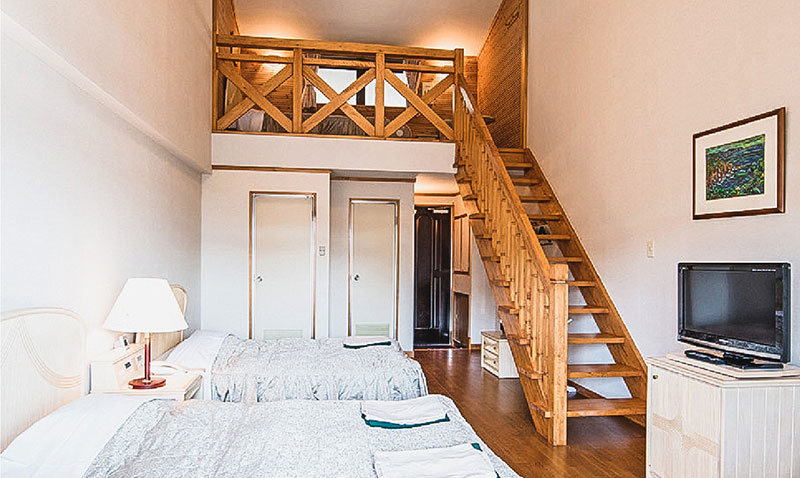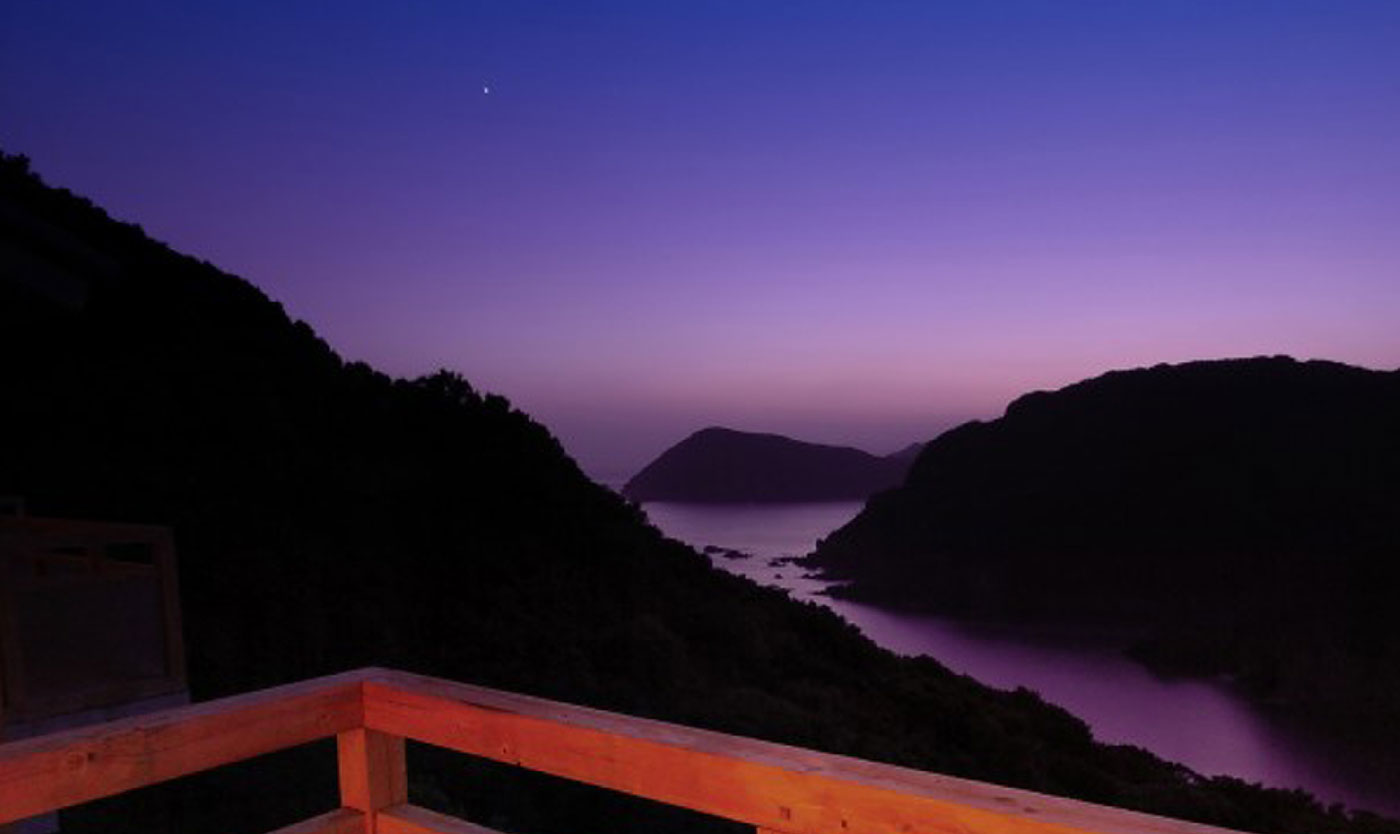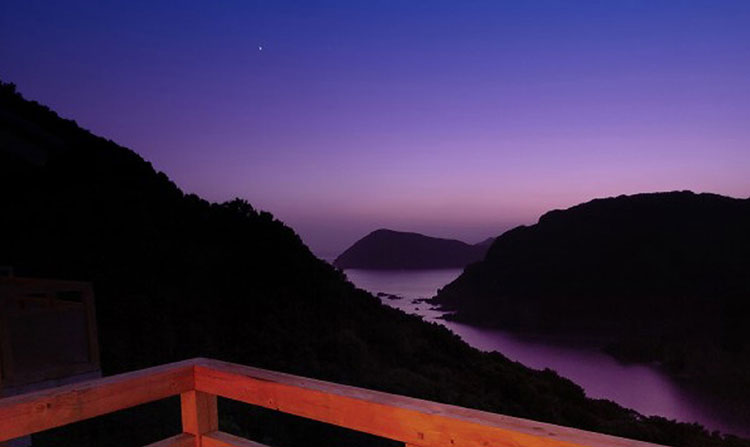 Day 2: A Nostalgic Journey
A Japanese Journey where you can take your time.A slow journey surrounded by nature and good people.
---
Kashiwajima Island,
A Nostalgic Seaside Townscape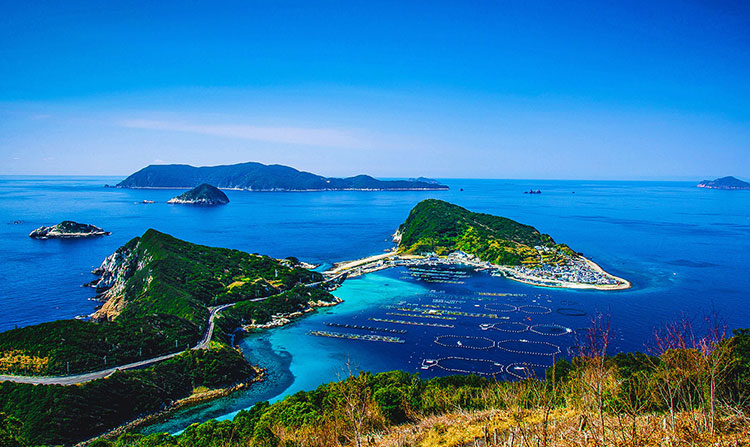 A nostalgic seaside townscape and beautiful ocean
A small island about 4 kilometers in circumference floating off the southwest tip of Otsuki Town. Connected to the Otsuki Peninsula by two bridges, this island offers views of Okinoshima Island and Uguru Island right before your eyes.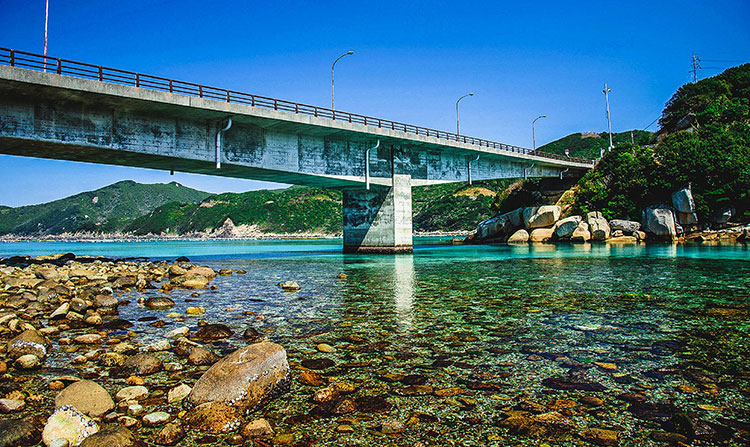 The warm waters from surrounding Kashiwajima Island, where the Kuroshio Current of the Pacific meets the Bungo Channel, are home to an abundance of fish species and beautiful coral reefs, making this a popular spot for scuba diving and rock fishing in Japan. The townscape lined with bed and breakfasts is so nostalgic that it has been used as the set of movies.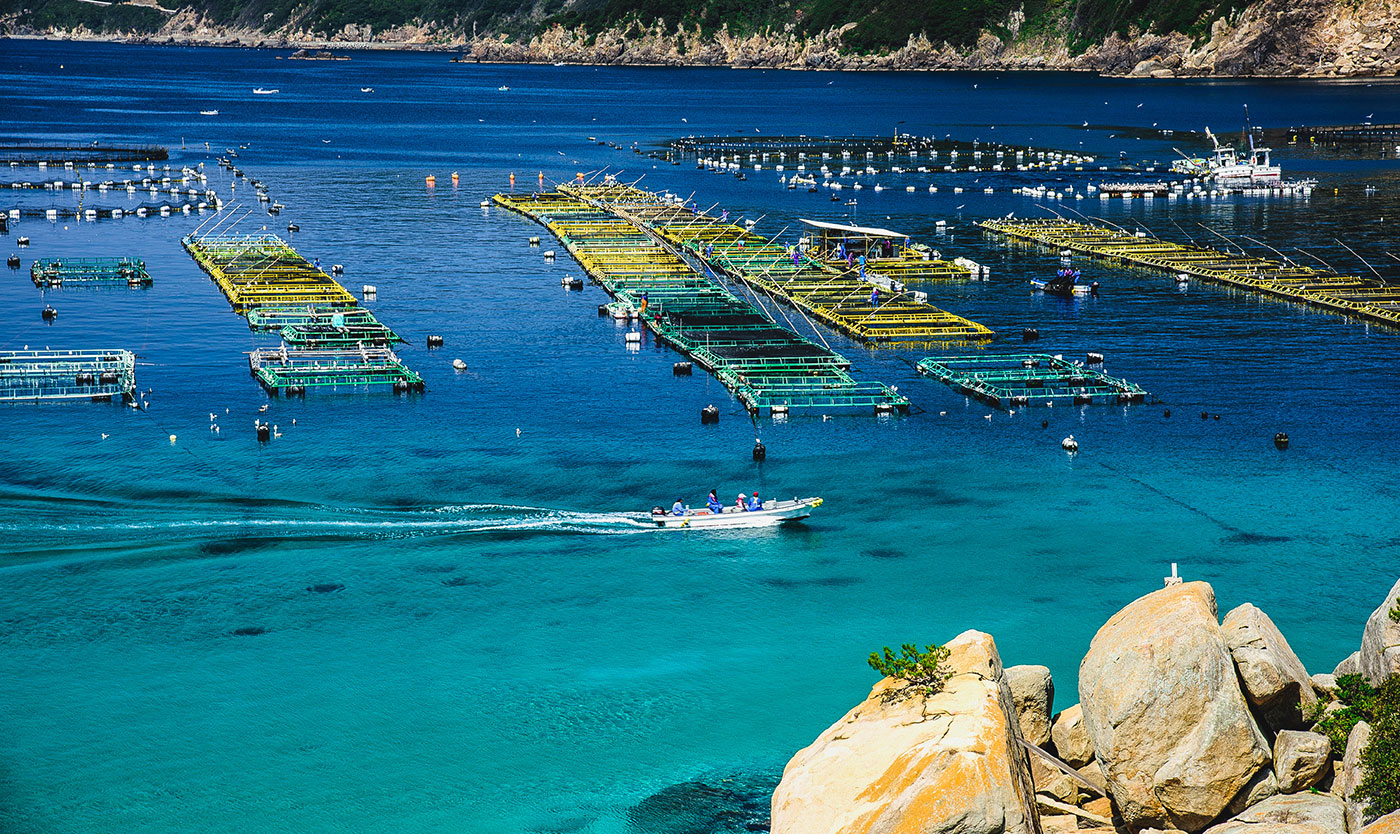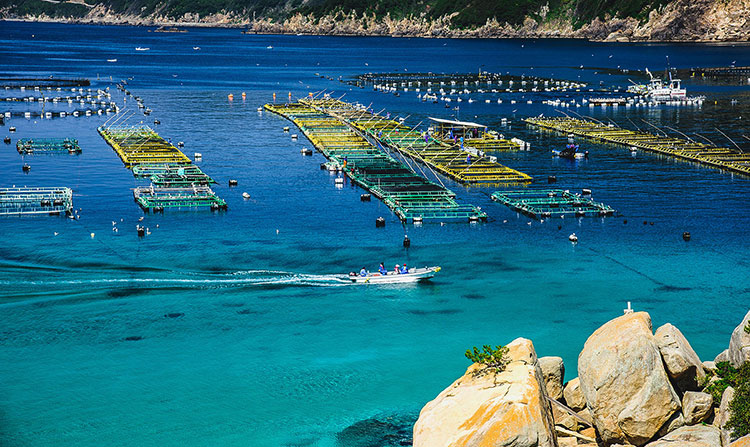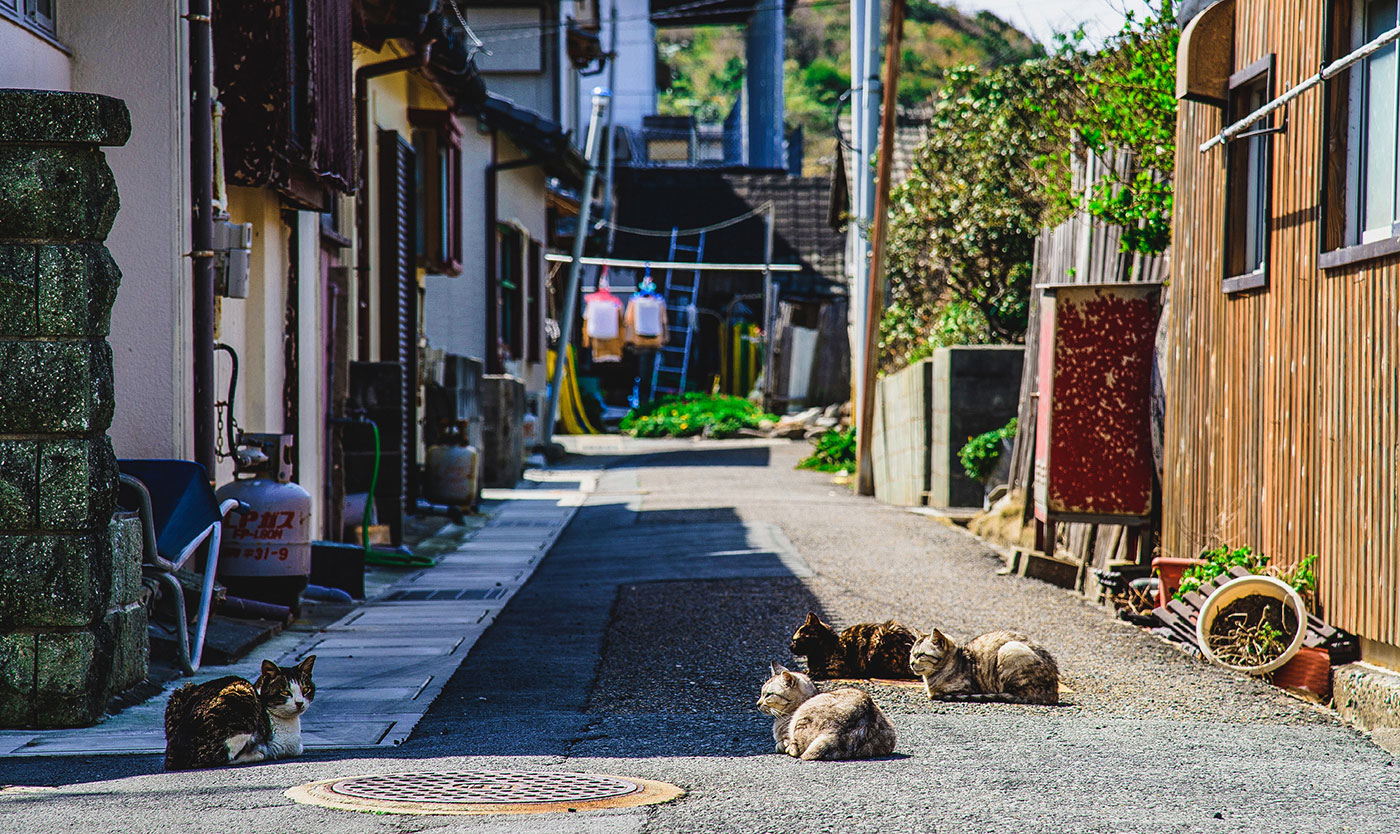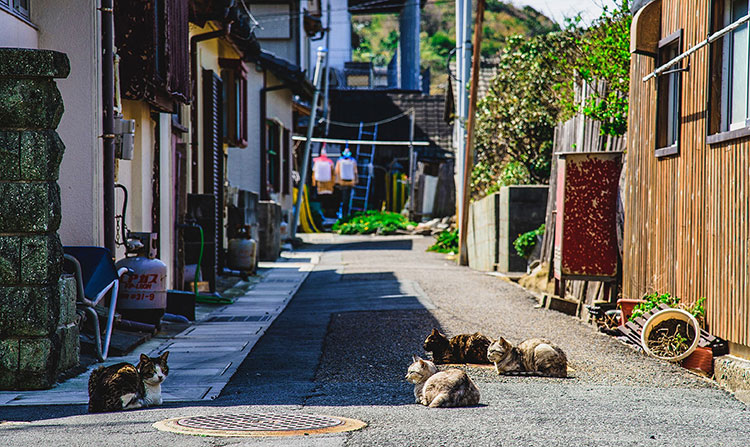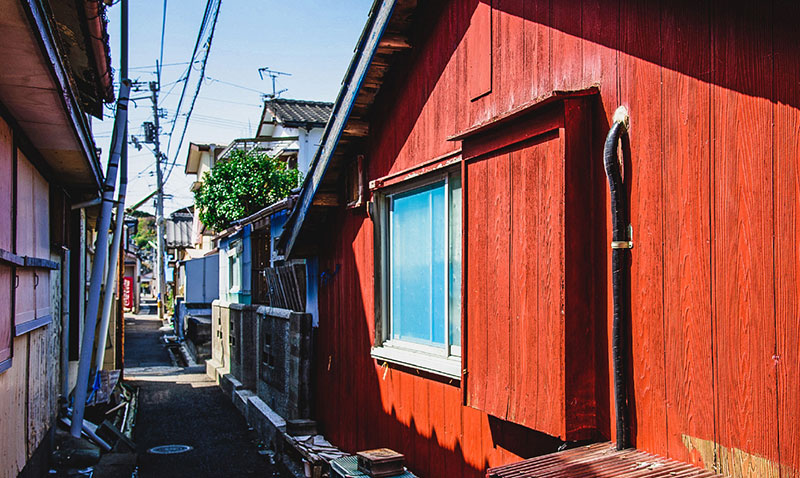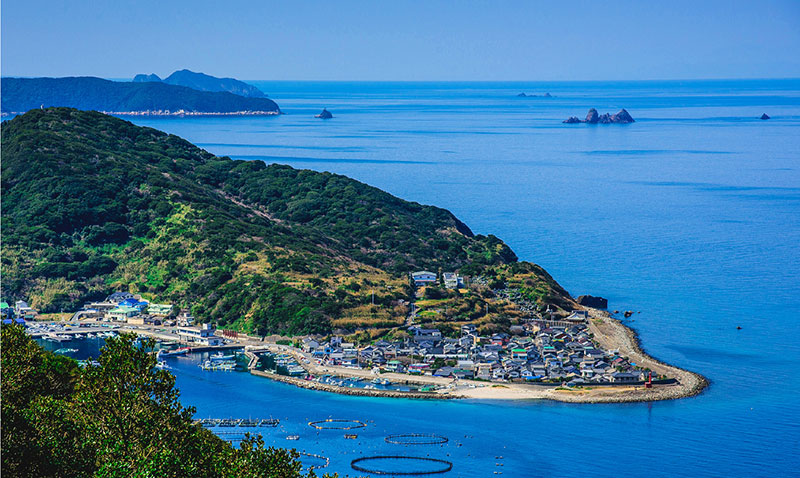 Kashiwajima Island
Kashiwajima Island, Otsuki-cho, Hata-gun, Kochi
Contact: Otsuki Town Hall, Industrial Promotion Department
Tel:0880-73-1115
MAP: Display Google Map
Featuring "Red Turtle", The Oldest Temple Bell In Kochi Prefecture Enkoji Temple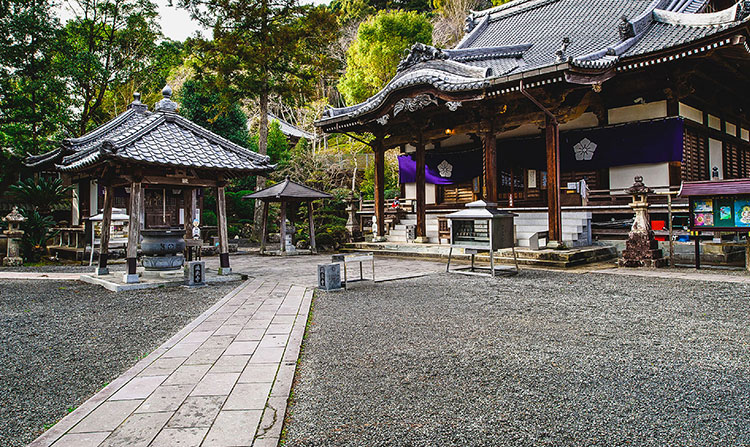 Enkoji Temple, the 39th temple of the Shikoku Pilgrimage on the southwestern tip of Tosa (Kochi).
Enkoji temple is the final sacred site in Tosa (Kochi). The symbol of this temple is the Red Turtle statue, which stems from a legend from the Heian period in which a red turtle carried a temple bell on its back from the Palace of the Dragon King, which was then dedicated to the temple by the monks there.
There is also an "Eye Washing Well" (mearai-ido) where we can get water named as "Treasure Medical Water"(ho-i-sui) by Kobo Daishi that is said to be effective against diseases of the eye, and many pilgrims come here to wash their eyes.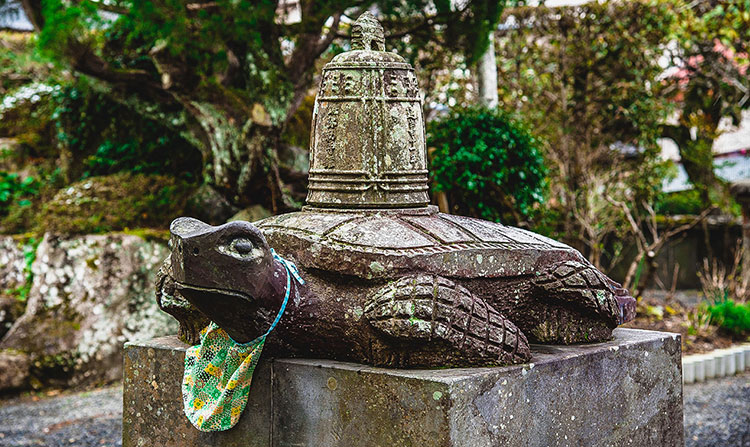 Enkoji Temple, the 39th temple on the Shikoku Pilgrimage
390 Nakayama, Hirata-cho, Sukumo-shi, Kochi
Tel: 0880-66-0225
MAP: Display Google Map
Another Trip: Extra Edition
A journey to an island so remote that ocean liners only travel there twice a day
---
Enjoy The Slow Pace Of A Remote Island
Okinoshima Island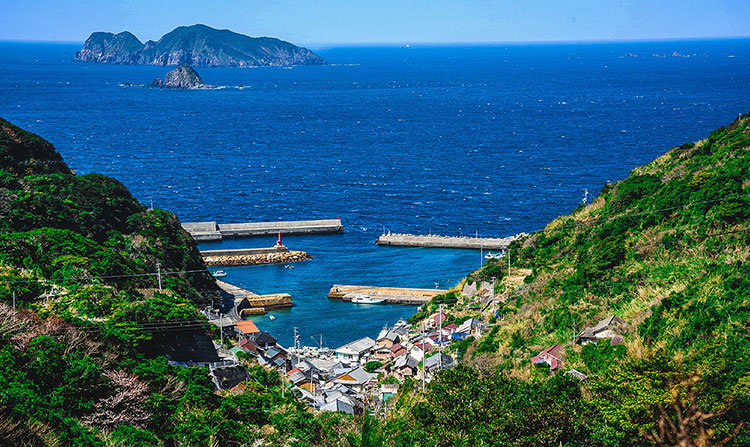 Take an ocean liner, which comes only twice a day, to enjoy the slow pace of a remote island
Experience the nostalgic island charms of Okinoshima, an island that can be reached by an ocean liner that departs just twice a day, at 7:00 am and 2:30 pm.The abundance of nature and the ocean, and everyday sceneries unique to island life. Only those who take the time to visit can experience slow pace of life on this remote island.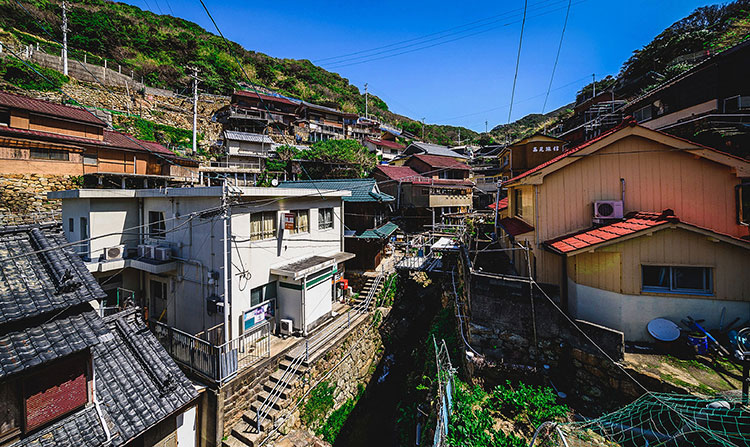 A remote island teeming with charm.
Connected to the sea by a flight of stairs is a settlement, which has an intricate structure reminiscent of a fortress. Seeing a post office among houses that can only be reached on foot is a mysterious sight indeed.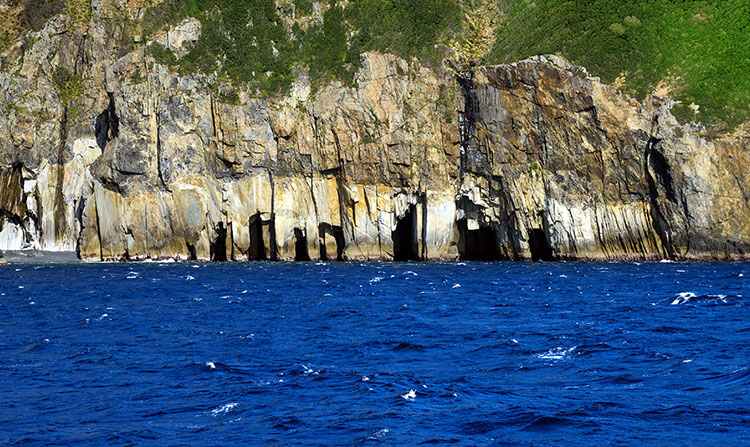 Natural art created by the Kuroshio Current.
Visible aboard the ocean liner bound for Okinoshima island are the Seven Caves (nanatsuudo), a natural work of art carved into chalk cliffs by the Kuroshio Current. Even before docking, the mysterious world of nature overwhelms. Charter a boat to see these mysterious caves up close.
We recommend Kuboura Beach, which is so beautiful that even people who do not swim want to visit; Udonohama Beach, which opens the earliest in Shikoku island on the first Sunday in June; crystal clear waters that attract scuba divers is perfect for marine leisure.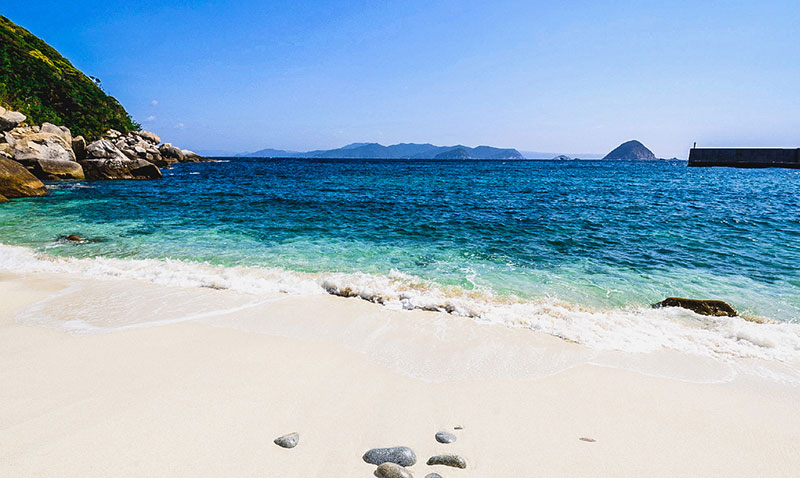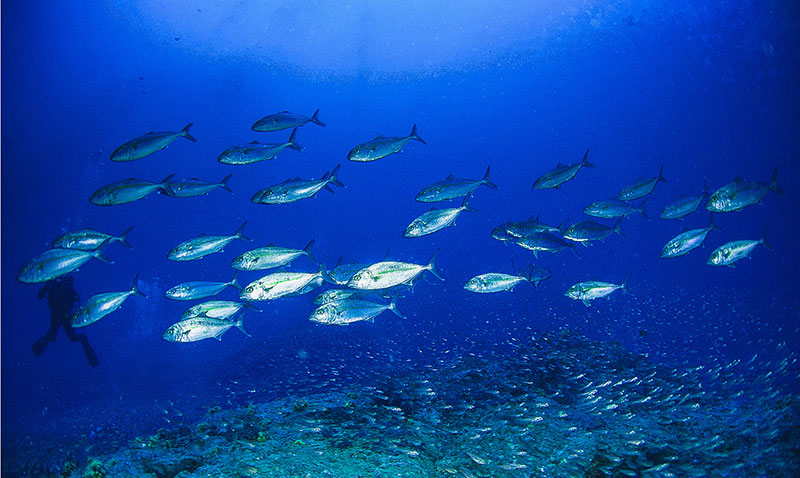 Both the lifestyle of the inhabitants and the scenery are beautiful.
The settlement on Okinoshima island features steep slopes like terraced paddies lined with houses, with beautiful granite steps and walls that will leave a great impression. The townscape stems from the geography of the island and life lived in harmony with the climate, giving it functional beauty.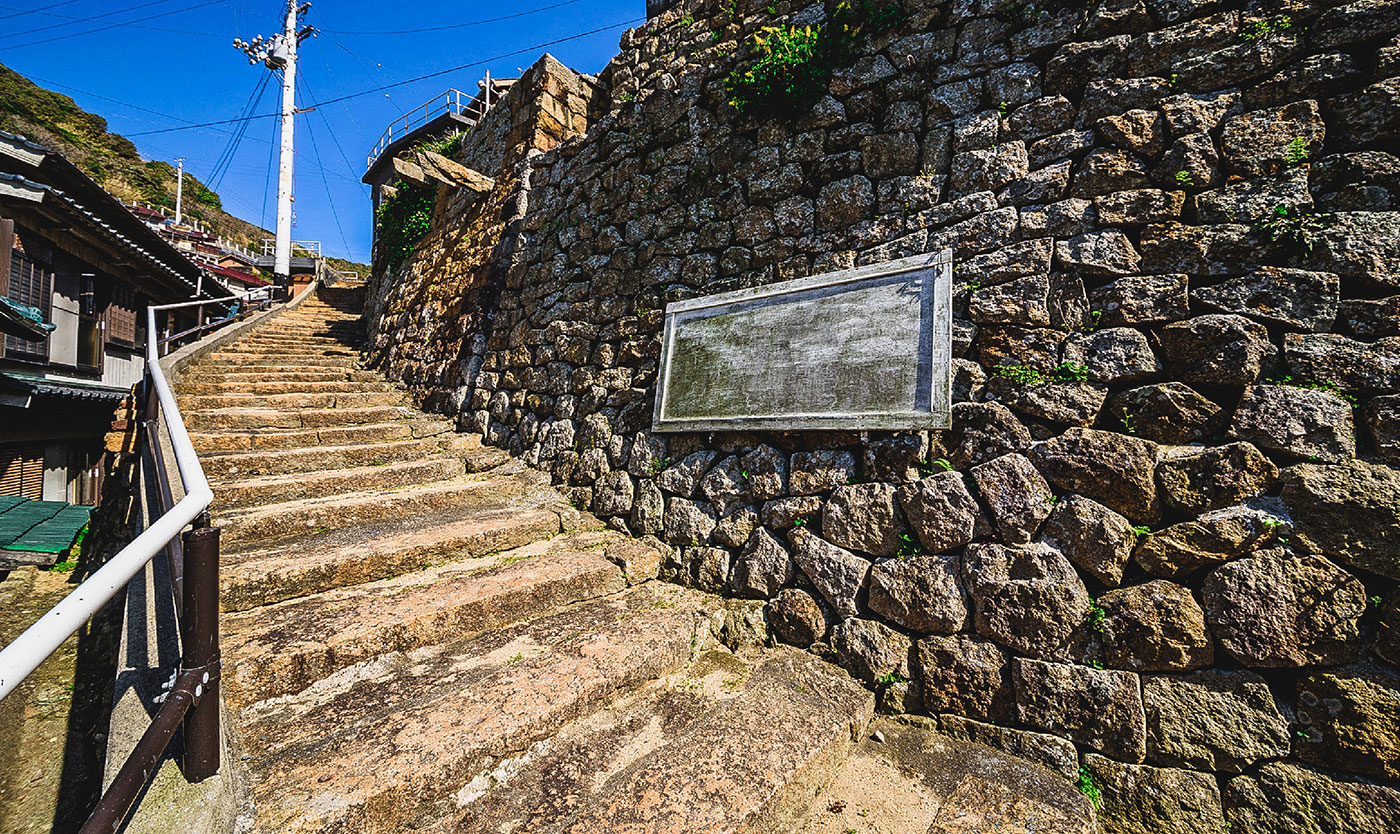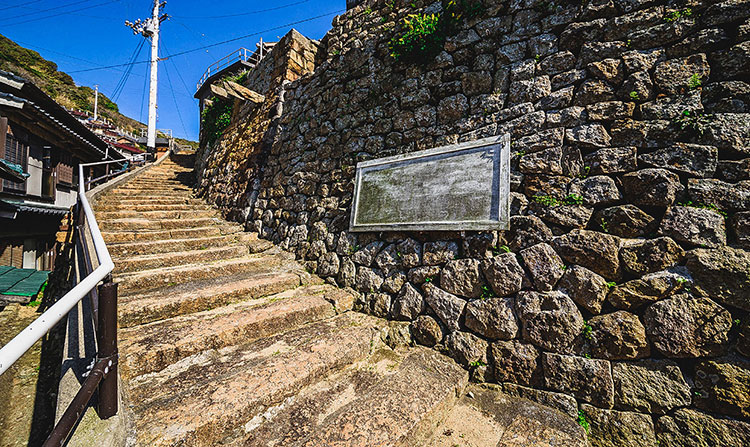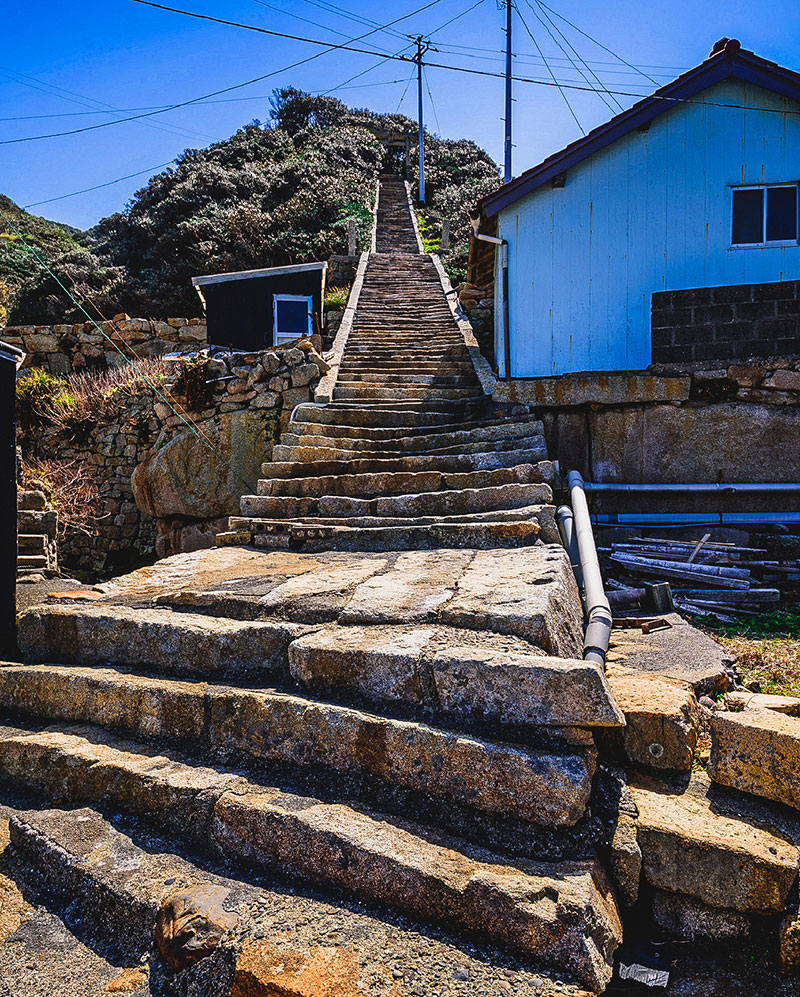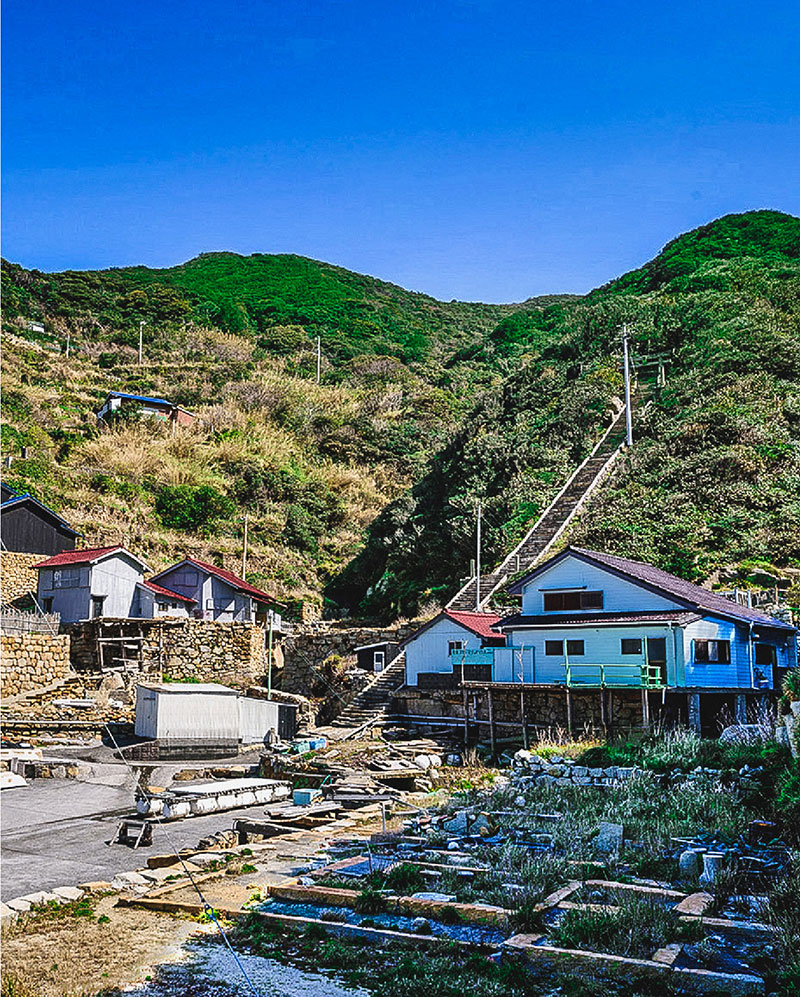 Stone steps leading uphill
Steep stone steps leading to Hiyoshi Shrine in Koyano Village create the illusion that you are climbing up to the sky. Something of the mystical can be felt in each and every aspect of the nature, townscape, culture, and island landscapes here.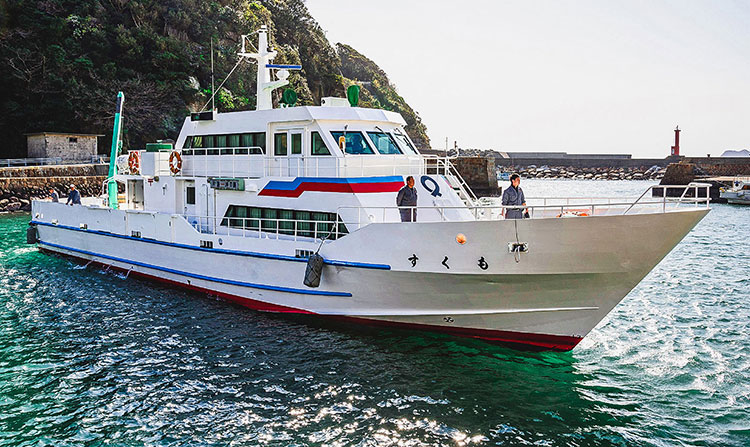 An ocean liner to Okinoshima Island departs twice a day. We recommend the visitor for staying overnight on the island for a more relaxing stay.
Okinoshima Island
Okinoshima-cho, Sukumo-shi, Kochi
Contact: The Sukumo City Tourism Association
Tel:0880-63-0801
MAP: Display Google Map
The ocean liner goes to the neighboring Uguru Island before heading back I'd like to visit this place too someday.