Blacksmithing Experience Near the Shimanto River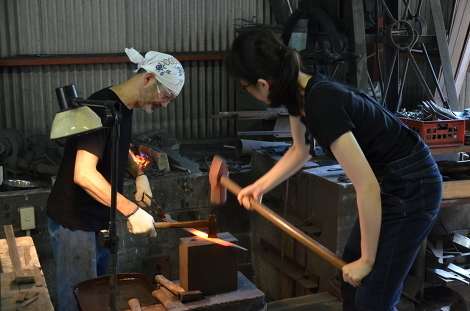 Fees

JPY 19,000 If one person
JPY16,000 yen per person for more than two persons
*You may take your finished work (size: 15 cm) home with you at the end of the activity. *Same price for adults and children (10 years old and older) *If you wish to pay by credit card, you can pay at this site in advance. (Sorry, however, we only accept Visa and MasterCard.) Please let us know your preference in the remarks section of the application form.

Participation requirements

10 years old and older

Time required

7 hours

Number of participants

1 to 6 persons

Acceptance period

Year-round
Free inquiry・Application>
We offer a full day's workshop, forging red-hot iron at a workshop in a natural wooded environment.
Have you ever imagined yourself with iron working tools in hand? Have you ever thought that you could be at a forge, designing and forming your own unique creation? Come with us on a very special and original escape back in time. Create ironworks in the same way the Japanese have done in ages past.

Your day starts by hammering red-hot iron at our workshop, close to nature and beside the beautiful Shimanto River. Careful attention and determined focus on each process will have you creating and finishing your own unique iron work. The entire process, from start to finish, is very rewarding and many have found it a profound experience, and a personal discovery of a traditional ironsmith within. An English-speaking instructor is available, so this workshop has become very popular among foreign visitors.

(Duration: 7 hours) 
                           
 ・Meet-up and check-in at Workshop Kurogane by 8:50 a.m.
   ↓ 
・9:00 a.m. – 9:30 a.m.
Briefing on the process of the blacksmithing experience
   ↓
 ※ First, you will decide the design for your work (kitchen knife, knife or paper knife).
   ↓          
・9:30 a.m. – 12:00 noon
Smith forging
   ↓
・12:00 noon – 1:00 p.m.
Lunch break
   ↓                                    
・1:00 p.m. – 2:00 p.m.
Shaving the iron
   ↓                                      
 ・2:00 p.m. – 3:00 p.m.
Engraving the iron
   ↓                                 
 ・3:00 p.m. – 4:00 p.m.
Heat treatment (quenching and tempering)
   ↓                          
 ・4:00 p.m. – 5:00 p.m.
Finishing (sharpening)
                                  
※ If you are participating as a group of two or more, you can perform the tasks up to the quenching stage. Afterwards, the final sharpening process is handled by our instructor and will be sent to you later. (The shipping cost is included in the workshop fee.)
Gathering spot

Access: Take Route 441 from the city center of Shimanto and drive for about 30 minutes. Cross the bridge called Kuchiyanai Ohashi en route, turn left and drive a further 600 meters. Parking spaces are available
944 Tennosan, Nishitosa Kuchiyanai, Shimanto-city, Kochi



Activity time

9:00 a.m. to 5:00 p.m.
GoogleMap
Transportation service

Not available

Things you need to prepare for the activ

Required Items to bring:
Please come in appropriate clothing, i.e. old or unwanted clothing and long pants, made of natural fibers. We will supply gloves, protective goggles and work clothes (called "samue" in Japanese).



Precautions

Please note that your clothes may get holes burnt into them during class as we are working with fire. We highly recommend that you wear cotton tops and bottoms and avoid all nylon or fleece clothes as they are much more flammable.
Please bring your own lunch as there are no restaurants nearby.

Special notes for groups

Booking required for groups (7 persons or above)

Fees include

Instructor fee and work
※ We supply gloves, protective goggles and work clothes (called "samue" in Japanese).



Fees exclude

lunch (Please bring your own lunch as there are no restaurants nearby)


Payment method

Please pay via cash on the same day on site.

Cancelation policies

If you cancel on the day of activity or fail to show up without notice, we will charge 100 percent of your activity fee. We waive any cancelation fee provided you notify us by the day before.
Application
Application acceptance start

Application will be accepted until today 90 days from today

Acceptance deadline

Up to 00:00 seven days before the day to experience
Please click on your preferred date (the one with circle).
〇

Available

×

Reservation acceptance has been closed or unavailable
Please also be aware that there is the date to start accepting reservations.
FAQ regarding natural experience
【How to make a reservation】
1. Please click on your preferred date to make a reservation, i.e. the date you wish to participate in the program.
2. You will go forward to an application form page.
3. Please read Terms and Conditions for an application carefully and accept an agreement before going onto application process.
4. Please select your preferred time. (If there is only one time slot, it is already selected.)
For activities of natural experiences that you need to appoint your time, please enter the preferred time in the comment field.
5. After entering all information necessary for the application, click on the submit button then your reservation will be completed.
* An e-mail to confirm your reservation contents are correct will be sent to your registered e-mail address.
* If we cannot make a reservation as you requested, we may have to ask you to provide other date/time to fit in. Thank you for your understanding in advance.
6. A reservation confirmation will be sent to you by the secretariat or organizer of the activity after you completed your application.
7. Regarding Tour Terms and Conditions, please check here.
Sponsorship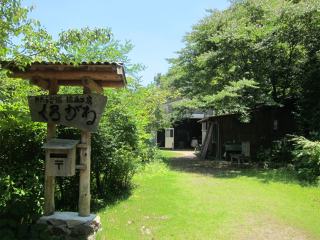 Workshop Kurogane
944 Tennosan, Nishitosa Kuchiyanai, Shimanto-city, Kochi 787-1324
TEL:0880-54-1811 FAX:0880-54-1811

■

Business hours:

9:00 a.m. – 5:00 p.m.

■

Holidays:

Unfixed