The Shimanto River Sightseeing Boat "Senba" Roman, Matsuhiroya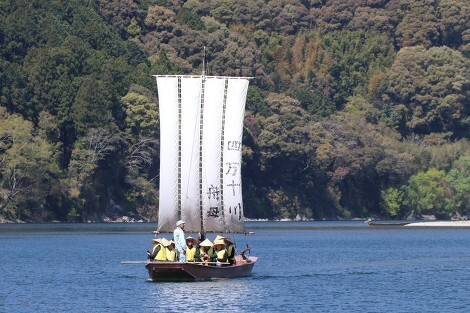 Fees

Adults (junior high school level and over):2,500yen
Children (elementary schoolers):1,200yen


Time required

Approximately 45 to 50 minutes

Number of participants

1 to 12 passengers

Acceptance period

From March 21 until the end of November
Free inquiry・Application>
How to trip
Slip back in time as you board this boat tour in a traditional Japanese sail boat, called "Senba", and cruise down the Shimanto River with its sail billowing in the wind.
The "Senba" was formerly used to transport and carry a whole range of daily commodities over watershed areas of the Shimanto River from the middle of the Meiji to Taisho and Showa periods. The Meiji Period was (1868-1912), Taisho Period was (1912-1926), and Showa Period was (1926-1989).

The wide and gentle nature of the Shimanto River is why such sail boats had no problem negotiating courses dozens of kilometers long, and served the area by delivering necessary goods, as well as transporting passengers.

A lovely and calming journey on the water, just as the local Japanese had done in ages past is just what you may need to feel refreshed and revitalized.

・The regular service period (March 21 – the end of November)
・9:15 a.m. ・10:15 a.m. ・11:15 a.m. ・12:15 p.m. ・1:15 p.m. 
・2:15 p.m.  ・3:15 p.m. ・4:15 p.m.
 
For schedules outside the above period, namely, December – March 20, we may be able to accommodate you depending on your request. Please feel free to contact us.
 All tours during this period are by advance reservation only.
・Privilege: You can try your hand at rowing the boat yourself if desired. (except adverse weather conditions)
・Course: Make a round trip from Nyuta in Shimanto City up to Sada Chinka Bridge.
・Duration: Approximately 45 to 50 minutes
・You must wear a personal flotation device.

Activity time

・The regular service period, i.e. March 21 – the end of November as follows:
・9:15 a.m. ・10:15 a.m. ・11:15 a.m. ・12:15 p.m. ・1:15 p.m. 
・2:15 p.m.  ・3:15 p.m. ・4:15 p.m.
※ We may be able to accommodate you according to your request during the period of December 2 to March 19.
GoogleMap
Transportation service

Not available

Precautions

Please note the tour is subject to cancelation due to bad weather or river conditions.
※ If you have a Ryoma Passport, please present it at the time of check-in or payment.



Fees include

Passenger fare

Payment method

Please pay via cash on site on the day of the activity.

Cancelation policies

If you cancel on the day of the tour or fail to show up, we will charge 100 percent of your tour fee. Cancelation fees are waived 50 percent provided you notify us by the day before.
Application
Application acceptance start

Application will be accepted until today 90 days from today

Acceptance deadline

Up to 00:00 three days before the day to experience
Please click on your preferred date (the one with circle).
〇

Available

×

Reservation acceptance has been closed or unavailable
Please also be aware that there is the date to start accepting reservations.
FAQ regarding natural experience
【How to make a reservation】
1. Please click on your preferred date to make a reservation, i.e. the date you wish to participate in the program.
2. You will go forward to an application form page.
3. Please read Terms and Conditions for an application carefully and accept an agreement before going onto application process.
4. Please select your preferred time. (If there is only one time slot, it is already selected.)
For activities of natural experiences that you need to appoint your time, please enter the preferred time in the comment field.
5. After entering all information necessary for the application, click on the submit button then your reservation will be completed.
* An e-mail to confirm your reservation contents are correct will be sent to your registered e-mail address.
* If we cannot make a reservation as you requested, we may have to ask you to provide other date/time to fit in. Thank you for your understanding in advance.
6. A reservation confirmation will be sent to you by the secretariat or organizer of the activity after you completed your application.
7. Regarding Tour Terms and Conditions, please check here.
Sponsorship
Senba Roman, Matsuhiroya
16 Nyuta, Shimanto-shi, Kochi 787-0020
TEL:0880-34-8911 FAX:0880-34-8922

■

Business hours:

9:00 a.m. to 5:00 p.m.