Tatsukushi National Marine Park Glass-Bottomed Boat by Tatsukushi Kaichu Kanko
Fees

Junior high school level and over: 1,560 yen
Elementary school students: 780 yen


Participation requirements

Tatsukushi National Marine Park Glass-bottomed Boat by Tatsukushi Kaichu Kanko

Time required

90 minutes and over depending on how much you spend on stroll

Number of participants

1 to 32 passengers

Acceptance period

Year-round (Holidays are unfixed)
Free inquiry・Application>
How to trip
The largest coral reef area nationwide, tropical fish, and marvelous and oddly shaped rocks; the sea around Tatsukushi and Minokoshi forms a natural wonderland.
The sea around Tatsukushi, home to plate coral, is Japan's first undersea marine park designated in 1970.
Enjoy gazing into the undersea world, watching various creatures, including table and plate corals, and colorful fish from the glass-bottomed boat.
Another fun part of the glass-bottomed boat tour is coming on shore at Minokoshi Beach.
The beach, covered with millions of naturally weathered honeycomb rocks, is a piece of art in itself.
Enjoy amazing sightseeing, both on the beach and under the sea!
(Each round-trip glass-bottomed boat ride lasts about half an hour. Duration of sightseeing 60 to 100 minutes, including a stroll on Minokoshi Beach)

 ・Arrive at the ticket booth at the Tatsukushi Kanko Kisen; located at the entrance to the Tatsukushi municipal parking area
    ↓
 ・Walk to the boat dock at Tatsukushi Port (around 500 meters from the parking area)
    ↓
 ・Boarding and departure (Observe table and plate corals en route to Minokoshi Beach. Duration: Approx. 20 minutes)
    ↓
 ・Alight at Minokoshi Beach. Please inform the attendant what time you would like to come back and enjoy free time sightseeing and strolling on the beach. (Duration: Around 30 to 70 minutes depending on your pace)
    ↓
 ・After sightseeing, you reboard the boat and go straight back to Tatsukushi Port. (approximately 10 minutes)
    ↓
 ・The activity ends at the port.
Activity time

8:30 a.m. to 4:30 p.m.
※ Please specify what time you wish to go in the comments field.
GoogleMap
Transportation service

Not available

Things you need to prepare for the activ

Please dress in comfortable clothes and shoes. Motion sickness preventative drugs if necessary.

Precautions

Please note that the tour is subject to cancelation due to bad weather or water conditions.

Special notes for groups

A 10 percent discount when participating with a group of 15 or over with prior booking

Fees include

Round-trip passenger fare from Tatsukushi Port to Minokoshi Beach

Fees exclude

The guide fee for the tour provided by the Tosashimizu Sightseeing Volunteer Guide Organization will be charged separately.

Payment method

Please pay via cash on site.

Cancelation policies

If you cancel on the day of the activity or fail to show up, we will charge 100 percent of your activity fee. We waive any cancelation fee provided you notify us by the day before.
Application
Application acceptance start

Application will be accepted until today 90 days from today

Acceptance deadline

Up to 00:00 three days before the day to experience
Please click on your preferred date (the one with circle).
〇

Available

×

Reservation acceptance has been closed or unavailable
Please also be aware that there is the date to start accepting reservations.
FAQ regarding natural experience
【How to make a reservation】
1. Please click on your preferred date to make a reservation, i.e. the date you wish to participate in the program.
2. You will go forward to an application form page.
3. Please read Terms and Conditions for an application carefully and accept an agreement before going onto application process.
4. Please select your preferred time. (If there is only one time slot, it is already selected.)
For activities of natural experiences that you need to appoint your time, please enter the preferred time in the comment field.
5. After entering all information necessary for the application, click on the submit button then your reservation will be completed.
* An e-mail to confirm your reservation contents are correct will be sent to your registered e-mail address.
* If we cannot make a reservation as you requested, we may have to ask you to provide other date/time to fit in. Thank you for your understanding in advance.
6. A reservation confirmation will be sent to you by the secretariat or organizer of the activity after you completed your application.
7. Regarding Tour Terms and Conditions, please check here.
Sponsorship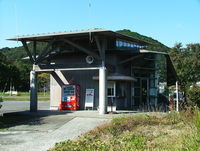 Tatsukushi Kaichu Kanko
4135-2 Misaki, Tosashimizu-shi, Kochi 787-0450
TEL:0880-85-1155 FAX:0880-85-1198

■

Business hours:

8:30 a.m. to 4:30 p.m.

■

Holidays:

April 29 to May 8
August 13 to 15
January 1 to 3