Banana Boating and Calm Snorkeling on a Premium Beach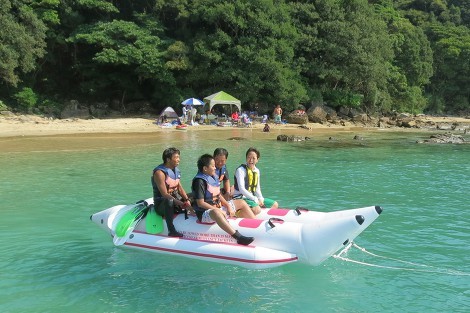 Fees

Age 10 and over: 5,500 yen


Participation requirements

● Age requirement: 10 and over
● Those being treated for illness and/or suffering from a chronic disease may not participate in the activity.
Those with congestion from a cold may not participate in some cases.
You may not be allowed to participate depending on any previous illness.
We decline participation if you are pregnant or suffer from epilepsy.
If you have any condition of which we should be aware other than the above, please inform us.
We may ask you to submit a doctor's certificate if you have a history of illness.

Time required

2 hours

Number of participants

2 to 10 persons

Acceptance period

July 20 to early October
Free inquiry・Application>
How to trip
Let's venture over to a small secret beach, accessible only by boat, to drift on banana boats and play in the sea while enjoying coral reefs.
Bannoko Beach is a small beach, only a stone's throw from Minokoshi Beach; part of the Tatsukushi National Marine Park, boasting of beautiful sand and only accessible by boat.

Experience the speed and feel the sea breeze on the banana boat. At Bannoko Beach, you will enjoy snorkelling with fins.

This popular activity is best geared for those who feel that vacation means having a time to relax, heal, and feel rejuvenated. Swim freely or explore the sea of coral reefs. As you will be required to wear a personal floatation device and are accompanied by our instructor at all times during the activity, even those unfamiliar with water can enjoy this time in safety and with peace of mind.


 ・Check-in at Sakurahama Beach. Sign the consent form.
   ↓
 ・Briefing (approx. 10 minutes)
   ↓
 ・Go over to Bannoko Beach on the banana boat pulled by a jet ski. (10 minutes) 
   ↓
 ・Enjoy snorkeling and water play with our instructor. (1 hour)
   ↓
 ・Return to Sakurahama Beach on the banana boat.
   ↓
 ・The course ends at Sakurahama Beach.
Activity time

Morning course: 10:00 a.m. to 12:00 noon
Afternoon course: 1:00 p.m. to 3:00 p.m.
GoogleMap
Transportation service

Not available

Things you need to prepare for the activ

Swimsuit or beach type of clothes, extra clothes, towels
※ You can change on Sakurahama Beach.


Precautions

With light rain, we can go ahead and enjoy the activity without any problems but we may cancel or change the contents depending on weather conditions.
The age requirement is 10 and over.
We have two courses a day; the first departs at 10:00 a.m. and the second at 1:00 p.m.
If you are participating with a group of up to 6, please book 2 days in advance and for groups of 7 to 20, five days in advance. The course lasts approximately one and a half hours and we accept from 2 to 20 participants between mid-July and mid-October.
※ Please specify the gender and age of participants in the inquiry (comment) section.
※ There are no toilet facilities on Bannoko Beach.
※ If you have a Ryoma Passport, please present it at the time of check-in or payment.

Fees include

Instructor fee, banana boat ride, snorkelling gear including fins, personal flotation device

Fees exclude

Swimsuit, towels, drinks

Payment method

Please pay via cash on site.

Cancelation policies

If you cancel on the day of the tour or fail to show up, we will charge 100 percent of your tour fee. Cancelation fees are waived 50 percent provided you notify us by the day before.
Application
Application acceptance start

Application will be accepted until today 90 days from today

Acceptance deadline

Up to 00:00 two days before the day to experience
Please click on your preferred date (the one with circle).
〇

Available

×

Reservation acceptance has been closed or unavailable
Please also be aware that there is the date to start accepting reservations.
FAQ regarding natural experience
【How to make a reservation】
1. Please click on your preferred date to make a reservation, i.e. the date you wish to participate in the program.
2. You will go forward to an application form page.
3. Please read Terms and Conditions for an application carefully and accept an agreement before going onto application process.
4. Please select your preferred time. (If there is only one time slot, it is already selected.)
For activities of natural experiences that you need to appoint your time, please enter the preferred time in the comment field.
5. After entering all information necessary for the application, click on the submit button then your reservation will be completed.
* An e-mail to confirm your reservation contents are correct will be sent to your registered e-mail address.
* If we cannot make a reservation as you requested, we may have to ask you to provide other date/time to fit in. Thank you for your understanding in advance.
6. A reservation confirmation will be sent to you by the secretariat or organizer of the activity after you completed your application.
7. Regarding Tour Terms and Conditions, please check here.
Sponsorship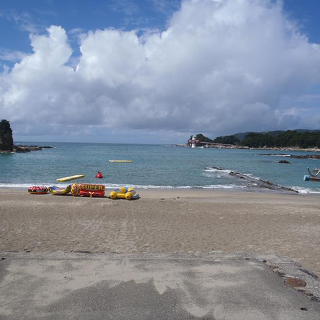 Marine Club Joy
21 Tatsukushi, Tosashimizu-shi, Kochi 787-0452
TEL:0880-85-0137 FAX:0880-85-0137

■

Business hours:

10:00 a.m. to 4:00 p.m.

■

Holidays:

Unfixed